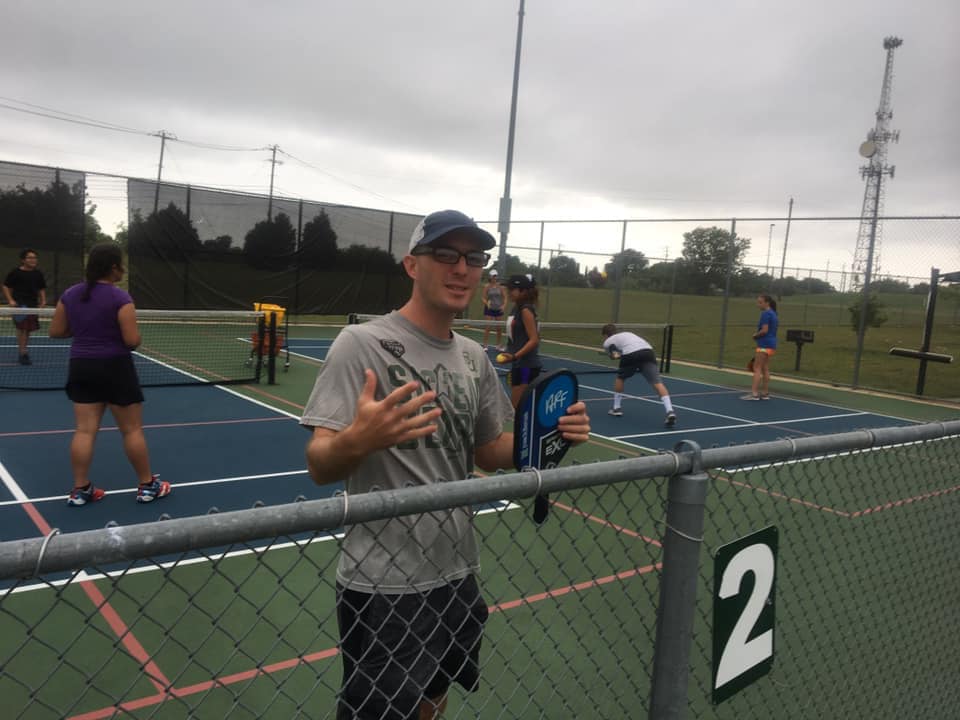 Hey there! My name is Calvin Keeney and I am a tennis and pickleball coach based out of Austin, Texas. I will be teaching a few more Pickleball camps for kids this summer. I've taught 5 summers of junior tennis camps and last year was my first year running kids camps for pickleball. The overall consensus from the young athletes was that it was a blast so we are doing it again!
What is Pickleball and What Would it Do for My Child?
Pickleball is a great sport for all ages. It's much easier to learn how to hit the ball and play the game compared to other racket sports such as tennis, racquetball and badminton.
Here are some high level junior Pickleball players participating in the National Pickleball tournament in 2018.
I've seen Pickleball be helpful in…
Building self confidence.
Making new friends.
Giving people a fun way to exercise.
Players are physically closer to each other on the Pickleball court than they are the tennis court making it easier to communicate with each other during a game. This leads to a game that encourages more socializing.
While Pickleball was invented many decades ago, it has only recently blown up in popularity. I heard it grew over 60% in player base in 2018 which is crazy! I know I would have loved playing Pickleball as a kid just as I do now as an adult.
Where in Austin, Tx Will These Pickleball Camps for Kids be Held?
The camps I am hosting this summer will take place at the Austin Tennis and Pickleball Center.
Address:
7800 Johnny Morris Rd
Austin, TX 78724
When Will the Pickleball Camps Be this Summer?
Each camp lasts for 1 week (4 days of the week. 2 hours per day).
Here are the dates for each session for the summer of 2020:
Session 1 – June 8th (Monday) – June 11th (Thursday) from 9-11am each day.
Session 2 – July 6th (Monday) – July 9th (Thursday) from 9-11am each day.
Friday from 9-11am of each week will be a makeup day if there is bad weather.
What Experience Does My Kid Need to Attend a Pickleball Camp this Summer?
No experience is required for your child to attend one of these fun Pickleball camps. I have worked with all levels of players and will match people together within each group based on skill level and age.
Pickleball is also a great sport for kids that don't play many other sports. It's one of the most beginner friendly games out there which is why I'm excited to show this awesome game to a new generation.
What is the Recommended Age for this Pickleball Camp?
The recommended age is 10 and up. It's possible that younger students can come and will enjoy it if they are very athletic or have experience in other racket sports like tennis. Feel free to contact me to ask if your child would be a good fit.
How Much Does it Cost to Attend One of the Camps and How do I Pay?
The cost for a 1 week camp (4 days for 2 hours per day) is $65 per student. If you have more than one child signing up for Pickleball camp, then each additional child will cost $45.
You can pay me (Calvin Keeney) directly to confirm your child's spot in one of the camps listed above. I accept cash, check, Venmo or credit card. (See below for contact info and signing up.)
How do I Sign Up for This Fun Pickleball Camp?
You can sign up for one of my Summer Pickleball Camps by contacting me. Here are several ways to reach me. Or you can always tell me in person the next time you see me at the court.
Just remember, spots are typically limited to 8 players per camp so sign up soon to reserve your spot.
What Should My Child Bring to Pickleball Camp?
They should bring a water bottle and a positive spirit 🙂 I have plenty of paddles that they are welcome to use for the camp if needed. Some players may like having a towel so you can bring one of those if you think you will need one too.
Also, don't forget to put on sunscreen!
Let me know if you have any questions by contacting me here.